Monday, October 3, 2011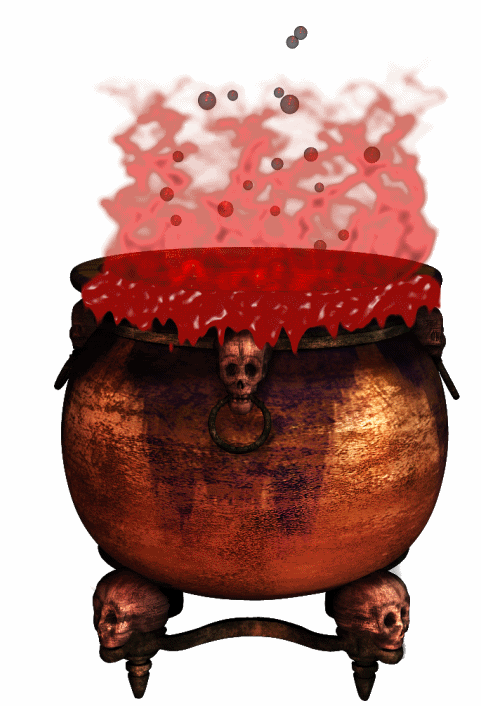 Today we will be learning how to make a cauldron smoke and bubble.
For this you will need a cauldron...any will do...and it's perfect for Halloween tags!
You will also need the following filters:
Eyecandy 4000 Smoke
Eyecandy 4000 Melt
Eyecandy 4000 Water Drops
find them here
-------------------------
Now, let's get started..
Open your tube (or apply this to an already made tag)..duplicate it 4 times.
Now, select around the place on the cauldron where you want the smoke to be
Go to your Eyecandy 4000 Smoke filter and use these settings..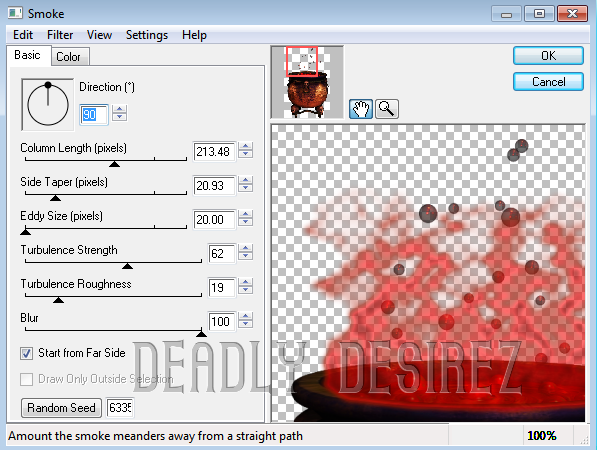 if you click the color tab you can change what color your smoke is to suit your needs
Now you want to go back and do the smoke on the next layers,
just click the random seed box on each layer...click ok.
Now for the "slime"
For this you will need to go to the top layer and highlight the area you want to have slime on...

right click and choose "promote selection to layer", grab your brush and paint into the selection.. make it the color within the cauldron, I made mine red..looks kinda like so.
unselect the image..and duplicate that four times.
Now for the movement...we will be using Eyecandy Melt with the following settings.
You can make these lines thicker or longer by adjusting the width and length...click ok.
Do this on each layer and hit random seed on each layer before choosing ok.
Now, we move on to the bubbles in the melted layers. For this we will be using eyecandy 4000 Water Drops.
this will be going onto the melted section we just did.
this will be the settings you use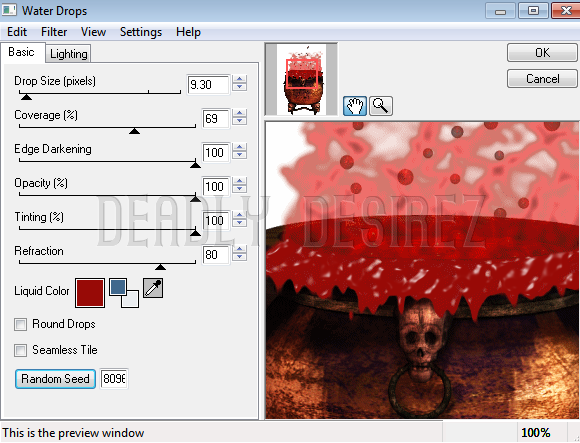 you can choose what ever color you need to fit your needs.
You want to apply this to each melted layer you have but hit random seed before clicking ok.
Now merge the melted layers on to the cauldron layers...
take it into you animation shop save it and you are done.
I hope you enjoyed this tut.
Now, go make some cool looking cauldrons!
I Support:




*click the stamp below to provide

therapy for children living with autism*


About Me
Deadly Desire Tagz

I'm happily married, I have 2 wonderful children and a few dogs. This is my little corner, enjoy your stay here and I hope you find a few treats here along the way.
View my complete profile

T.O.U.
The creations that I make whether they are a tag, forum set,
quick page or extras are made by me and my own creativity and imagination. Please do not rip apart, destroy, alter them or claim them as your own,THIS INCLUDES ADDING NAMES TO EXTRAS!! If you do any of these things you are committing an act of infringement and going against copyright laws. If caught you will be reported to the licensing companies and going against copyright laws and you will be reported to the licensing companies.

Goodie Blogs

Labels